This week at Cvent Connect, ICE's Strategy Director, Anita Howard announced the release of the second ICE Research study supported by Cvent and conducted by Explori. The report shares a number of insights into budgets, reporting structure, measuring sustainability and more. There were two insights which I found particularly interesting:
Using metrics to measure the effectiveness of events is still a top challenge for event professionals.
Across all key metrics virtual events are being measured less compared to their live event counterparts.
In the 2019 study it emerged that one of the top challenges for organisers over the next three years was using metrics to measure the effectiveness of events. The latest report maintains that this is still top of mind for organisers. However, when respondents were asked which metrics they use to measure their live and virtual events, this is what emerged from the data (zoom in to see the details);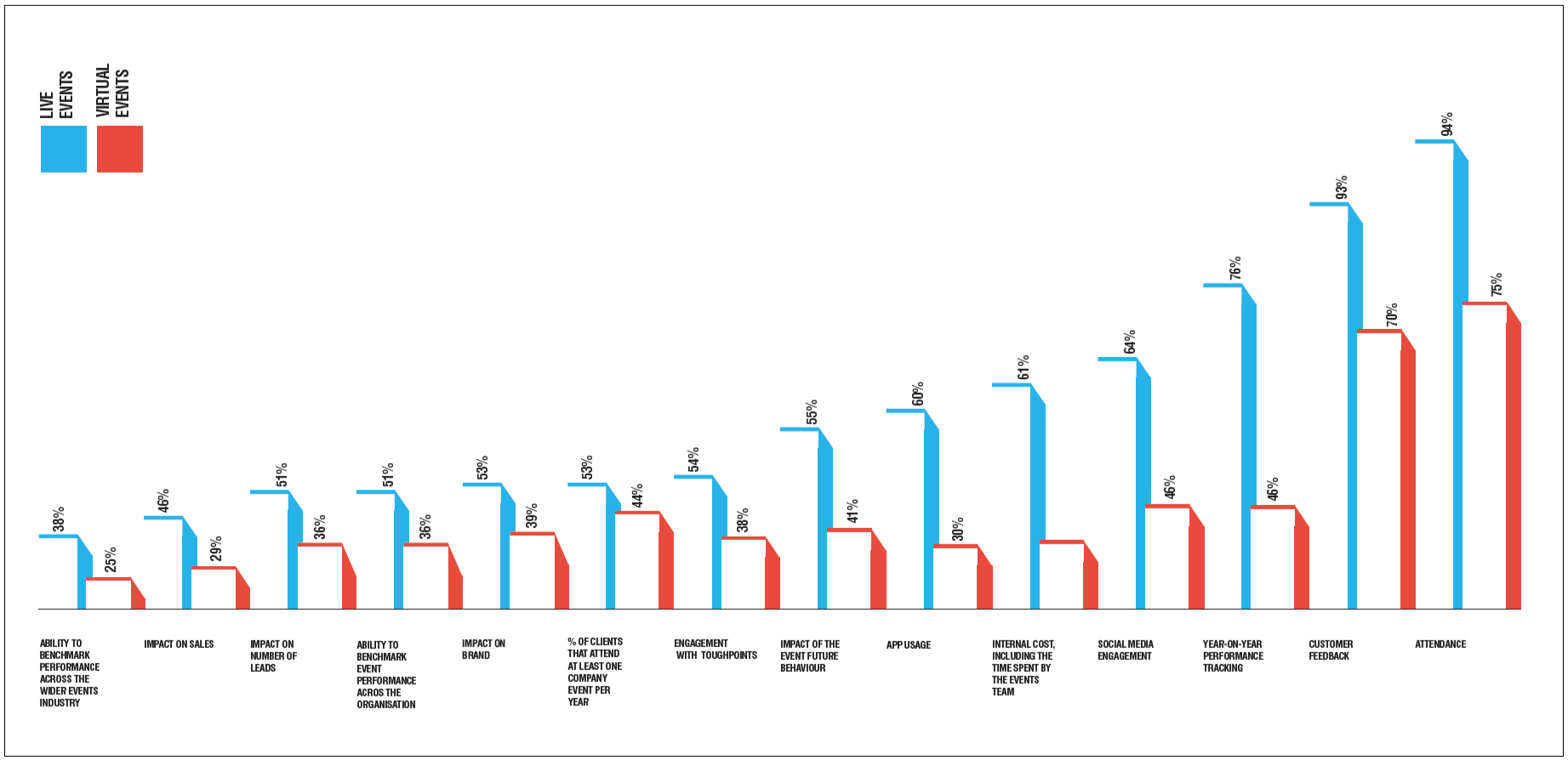 Across all metrics respondents are measuring their virtual events less than in-person events. When it comes to attendance, customer feedback, social media engagement, app usage and measuring the impact of the event on future behaviour, we can see large decreases in measurement for virtual relative to in-person events.
This stood out to me because one question I am hearing a lot from organisers lately is 'how do I make my virtual events better?' What the ICE report seems to suggest is that organisers are missing out on crucial insight that would help them optimise the virtual event experience. The upside is with virtual events there is a wealth of data available that organisers can tap into for little or no extra cost.
It's important to note that this data was gathered from May through to August 2020. It's likely that organisers who had organised a virtual event at this point were early adopters. Earlier on in the year there was a real sense of 'done' being the metric of success. The feeling that as long as the event ran with no catastrophic mishaps then it was a success. But as we all get more comfortable with delivering virtual events, and with more people agreeing that the future (of at least some event formats) will be hybrid, there has been a real shift to optimising the virtual experience.
How do you optimise the virtual event experience?
I'm not going to overstep any boundaries and suggest I have all the answers to this question because I don't. However from a data-driven perspective what I know is the events that achieve the best results are ones which are plugged into the objectives and desires of their attendees. The way to do that is by developing a robust feedback strategy. We need to close the gap between in-person and virtual events measurement by collecting structured attendee feedback.
I asked our Customer Success Manager, Mitch Deeming about how organisers can generate insightful feedback using their surveys to inform event strategy. Here's what he had to say,
"It's important for organisers to pay attention to the questions they are asking and the insights they will be able to pull from these questions. For example if an organiser wants to know how their event is performing overall they can ask about overall satisfaction and Net Promoter Score which they can benchmark to compare against in-person and other virtual events.
To understand attendee experience they can ask attendees about their objectives for participating in the event and how well they were able to meet those objectives. Where it gets really exciting for organisers is asking impact questions. These are questions which get to the heart of how your events are changing how attendees think and feel but also what they intend to do after the event. That's where event profs begin to demonstrate the impact of their events on business goals."
As the report highlights, using metrics to measure the effectiveness of events is an ongoing challenge but so too is delivering hybrid and virtual events. As organisers seek to optimise the virtual experience over the coming years measurement will play a crucial role in unpicking exactly what makes a good online experience.
The Event Impact Playbook
If you are interested in understanding how to demonstrate the impact of your events on business outcomes then download our free Event Impact Playbook. In it you will find information about:
how to structure your event objectives,
how you can optimise your events by combining your demographic, engagement and sentiment data, and
how you better develop insights from your survey data to demonstrate the strategic impact of the events function.