Consumerization of B2B events: The shifting priorities of attendees
Natalie Campbell-Reid
·
3 minute read
One of the highlights of last month's Experiential Marketing Summit in Las Vegas was a benchmark study revealed by Sparks and Event Marketer about the consumerization of B2B events. When I compared some of their findings to Explori's Global Visitor Insights report a clear difference emerged.
When people attend trade shows they have different event expectations compared to when they attend brand-led events.
In the US trade shows are still one of the most profitable B2B media strategies, generating over $13.2bn revenue in 2018. But all events aren't made equal, and the data suggests nor are the people who attend them. In the Sparks report, they surveyed attendees at brand-led events (i.e. Dreamforce, AdobeMax, Google I/O and more) to understand what today's attendees want from B2B events. Consumerization came out top as being highly important. However, Explori's Global Visitor Insights (GVI) 2018/19 report demonstrated something quite different.
If you exhibit regularly at events, or organise your own shows, you'll probably be surprised by what the data suggests.
What is consumerization in the context of events?
Consumerization (or festivalization) is a megatrend that exploded on the B2B event scene in 2016/17. A stream of articles and reports cited the changing face of B2B events influenced by what was happening in the consumer events space. The growth of the experiential economy has created a convergence point for businesses and the creative industries. B2B professionals have been exposed to the high-end production of festival style events such as South by Southwest and now expect a certain level of fun and enjoyment from conferences. B2B events have been challenged to adopt creative elements from consumer events in order to engage an audience who are becoming more distracted and fractured.
It does however beg the question, are there some cases in which incorporating consumer elements is not required? Could it even be detrimental?
What does the data say about consumerization in B2B events?
The Sparks report found that, "while a significant 68% of B2B brands see consumerization as an important trend, an even higher percentage of attendees (77%) feel consumerization is important." The data here reveals that attendees of brand-led events want to have festival-style elements woven into their experience. It appears they go to these events, not only to be informed but to be entertained.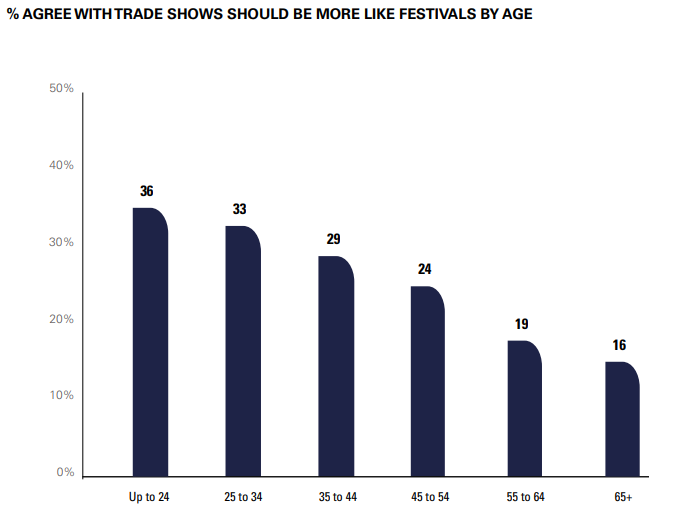 A different picture emerges in the GVI report. We asked 13,000 trade show attendees if they would spend more time at shows that are more entertaining. Only 24% of people in developed countries agreed*. We also asked if they thought events should be more like festivals. The results showed a much lower interest in introducing consumer elements to the trade show experience compared to brand-led events. Even amongst the youngest cohort of our study. Only 36% of under 24s and 33% of 25-34s agreed trade shows should be more like festivals.
This disparity surprised me at first. Why do the expectations of someone attending a trade show appear to be so different from when they attend a brand-led event? A deeper dive into the data revealed what drives this.
The shifting priorities of event attendees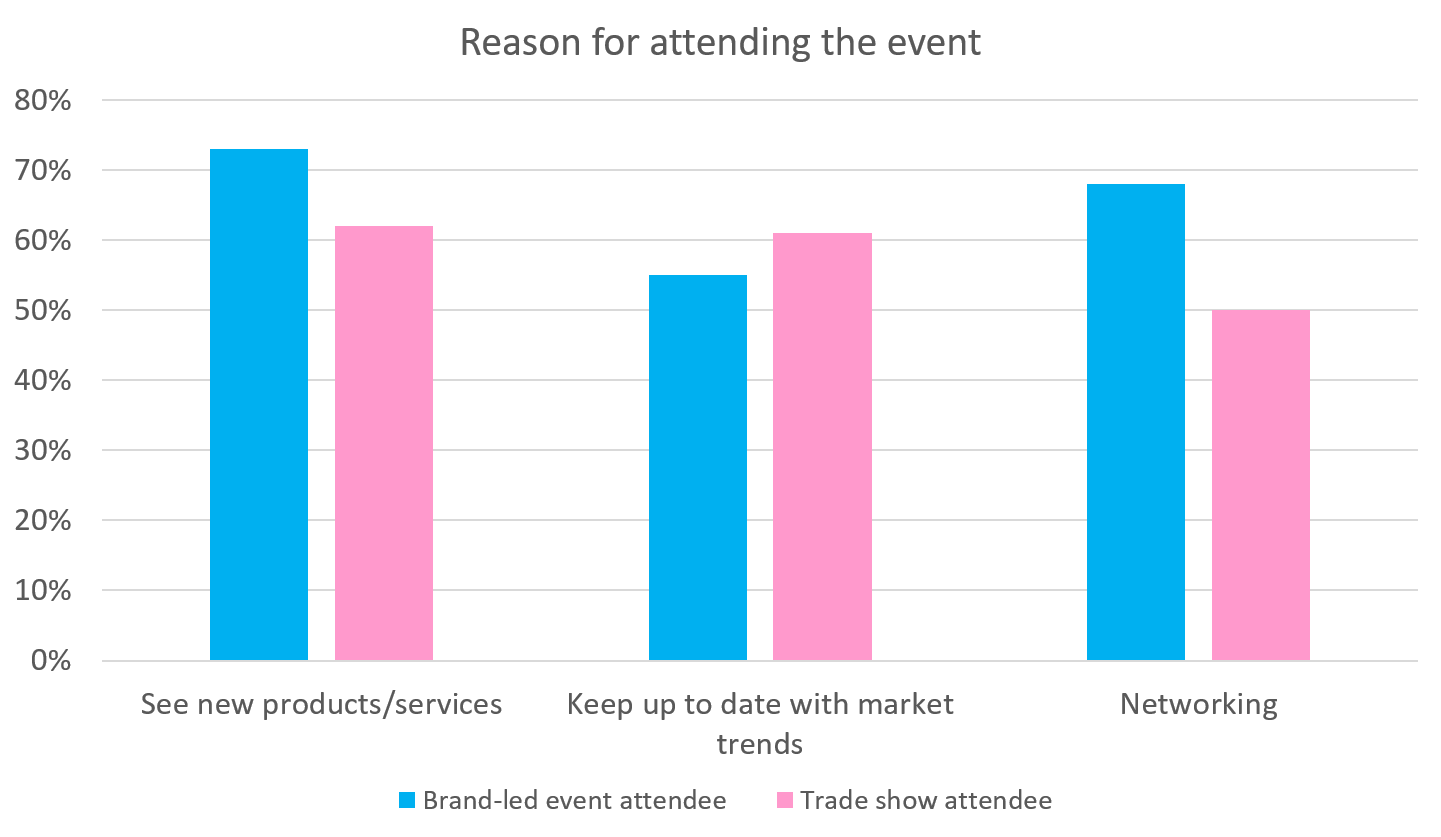 In brand-led events, Sparks found that the top 3 priorities for attendees are:
Education/Professional Development (73%)
Networking (68%)
See new products (55%)
However, at trade shows we found the top 3 priorities are:
To see new products and services (62%)
To keep up to date with market trends (61%)
Networking (50%)
59% of our respondents agreed that it didn't matter whether or not trade shows were entertaining as long as they could achieve their business objectives. It appears that trade show attendees have quite clear cut goals when it comes to attending events. Fun is a "nice to have" but when it comes down to it, the real measure of success is whether or not they find the suppliers and solutions their business needs.
On the other side, brand-led event attendees want to be educated and increase their network. They also want that to be wrapped in an experience that echoes consumer events with more unique event spaces, innovative environments, autonomy over how they learn and interact and more creative F&B.
For event marketers/organisers utilising a mix of trade shows and brand-led events, this is something to bear in mind. If you're hosting or sponsoring a brand-led event it may be more beneficial to focus on the experience of your event or stand in order to satisfy attendees who expect to be entertained. Alternatively if you're exhibiting at a trade show you may want to strip back the experiential elements and focus on showcasing the product/service you offer in an innovative way to converge with attendee expectations.
It's not a one size fits all approach. It's important to consider whether throwing in consumer elements across all your events, regardless of format is going to deliver the best return. In order to cultivate an event strategy that leaves a lasting impact; tap into the unique expectations of attendees and tailor your strategy to suit.