Global study reveals optimism for trade shows
Sophie Holt
·
4 minute read
Having just released the full Global Recovery Insights report, produced in partnership with UFI and supported by SISO, project lead, Sophie Holt, takes us through the key findings of the priorities of our visitors and exhibitors as live events start to return.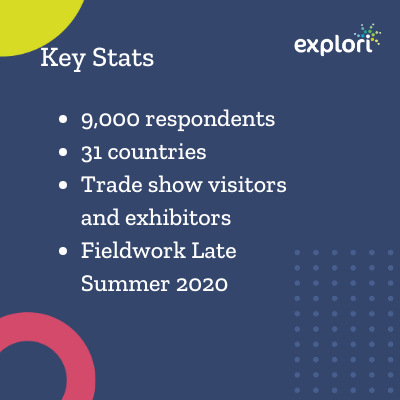 When we embarked on this project, as lockdown commenced this spring, I was apprehensive as to what we would find. At the end of 2019 we had produced the Global Exhibitor Insights, which made somewhat uncomfortable reading for the industry. It highlighted that some exhibitors were beginning to have concerns about the ROI of live events and question some of the figures that organisers were publishing.
Add to that, the biggest disruption that many of us have ever experienced in our careers and some commentators were suggesting that our industry was on a knife edge, facing a fundamental shift away from live events.
It was possible that we were about to produce research that could spell dark times for our industry.
But as we analysed the results in late August, it was clear that there was much to be positive about. Not only were live events being sorely missed by both visitors and exhibitors, it seems that they have not found alternative channels that can replace the unique aspects of face-to-face networking.
Live events support business generation: Two thirds of those who exhibit at trade shows reported their cancellation has had a notable detrimental impact on their business, reducing their ability to build awareness with their target markets. 50% of companies reported that the absence of live events was negatively affecting their ability to generate new business.
And whilst our current visitors and exhibitors strongly prefer live events across every aspect, there were also intriguing hints as to the future of digital and hybrid events, which I will cover in a future article.
What does the future look like?
Both visitors and exhibitors reported some drop in how frequently they planned to attend live events in future compared to previous studies we have conducted. But when compared with data from 2019, the drop for exhibitors was very modest. This reduction in frequency seems to be part of a more long term trend where exhibitors in markets where the exhibition industry is very developed are planning to level out their participation.
The more pronounced impact on visitor attendance is driven by short term concerns, primarily around safety. Visitors who were planning to reduce their attendance need to be reassured that robust safety measures are in place. They are also more drawn to the option of being able to attend an event digitally, for the time being at least.
When will spend return?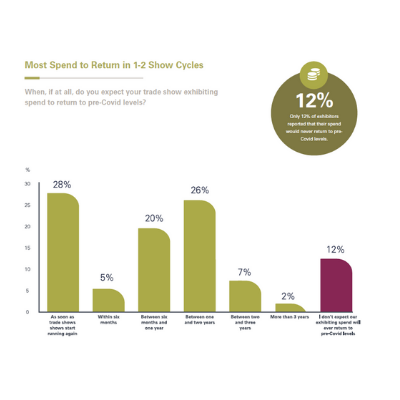 Possibly the most encouraging aspect of the study was exhibitors still feeling confident about the return of their spend for trade shows. 28% of exhibitors said their spend would return to pre-Covid levels as soon as live events were running again. Only 13% felt the drop in spend could be permanent. On average, exhibitor spending could return to pre-Covid levels within 11 months. This held true across widely differing sectors and countries.
Whilst as of August, budgets for other marketing channels remained relatively unaffected, unsurprisingly there has been a big impact on spend planned for live events. Both trade show budgets and in-house event budgets have been cut on average by 50% at this time. It will be interesting to see how this survives contact with CFOs as planning for 2021 crystalises.
But will these budget cuts manifest themselves in shows being dropped from a trade show marketer's plans, or an overall belt-tightening? The picture is complex. Whilst we can definitely see that the more severe the budget cut, the more likely an exhibitor is to reduce the number of shows they support, it is also true that, even for companies experiencing the largest cuts to their trade show budgets (in excess of 50%) they are still equally likely to continue to exhibit as frequently as to start dropping shows.
What is drawing audiences back to live?
This study has confirmed that building connections by networking is a unique aspect of live events, that has yet to be effectively replicated by other channels. Two thirds of both visitors and exhibitors have experienced fewer networking opportunities whilst there have been no live events. This translated into fewer leads generated for businesses (48%) and ultimately lower sales (45%).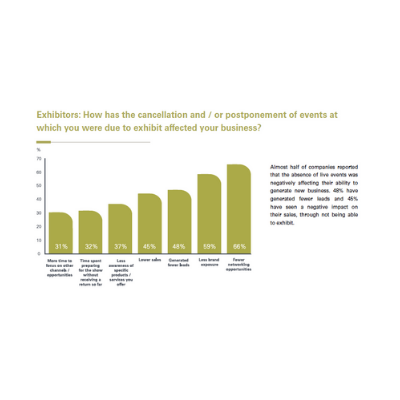 Digital events are not currently filling this gap, with "quality of networking" being the area they scored most poorly in comparison to live events with only 8% of exhibitors feeling that digital could compete with live.
Whilst our audience is supportive of sensible health and safety measures, they are reluctant to accept any measures that impede their ability to network, telling us that any reduction on social and networking activity reduces their likelihood to attend an event. This presents a challenge for organisers and venues alike. How can we offer high quality interaction whilst still following Covid Secure guidelines? And how can we offer an equivalent networking experience to our visitors who currently want to participate virtually? I'm sure many innovative solutions will emerge.
Quality vs. quantity?
We wanted to know what factors organisers should prioritise to ensure their show was a "must attend". Here our respondents were unequivocal. They will be evaluating shows based on the quality of the visitors and exhibitors.
Whilst visitor quality has always been an important factor for exhibitors, we can now see that it far exceeds the importance of visitor numbers, with 58% of exhibitors thinking it a priority for organisers vs. only 38% who were concerned about numbers. Exhibitors appreciate that visitor numbers may be restricted for a period of time, so they want to ensure that those they do meet are both relevant and purchase-ready.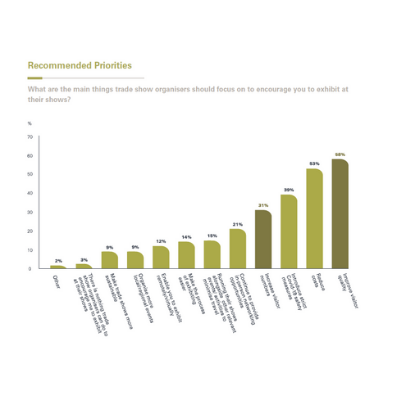 Interestingly, we also see exhibitor quality emerge for the first time as a critical factor driving visitor attendance. Where previously, we might have seen quality of education and content being the biggest factor, with 34% motivated by exhibitor quality vs only 14% motivated by high quality education, this is an interesting shift. Again we can see the unique aspects of live events at play; the ability to meet the most relevant suppliers in one place, being seen as much more important than education, an objective which can potentially be achieved elsewhere.
For the first time, cost of attending has also emerged a decision factor for visitors, with 39% citing it as a priority. This in part may be driven by pressure on travel budgets, but it can also be seen in the context of the availability of digital events, which visitors recognise can now provide them with high quality content at the fraction of the cost of attending in person.
Future insight plans

As the situation is constantly evolving, both in terms of access to live events and uptake of digital events, we asked participating organisers to reserve a portion of their data to allow for a second phase of research beginning December 2020.

The first report is now available for UFI members via gri@ufi.org Other verified trade show organisers and venues can request a copy here
Sophie Holt, Managing Director, Explori
This article first appeared in Exhibition World