So what exactly is a Net Promoter Score (NPS)?
Developed by Bain & Company and Satmatrix, Net Promoter Score (NPS) is a way to understand a customer's perception of your product or service. It's widely used across many industries and allows different sectors to benchmark themselves against each other – for example event planners could use it to compare their performance to other events, or even to other service sectors like hospitality or banking.
It is one of the most important questions we ask our clients to include in every post-event survey they conduct.
It leverages advocacy – the likelihood to recommend to a friend or colleague – as a way of understanding many different drivers of perception including satisfaction, ease of customer journey and return on investment in a single question. Respondents, in this case event attendees or sponsors, are asked to rate how likely they are to recommend the event to a friend or colleague in the industry.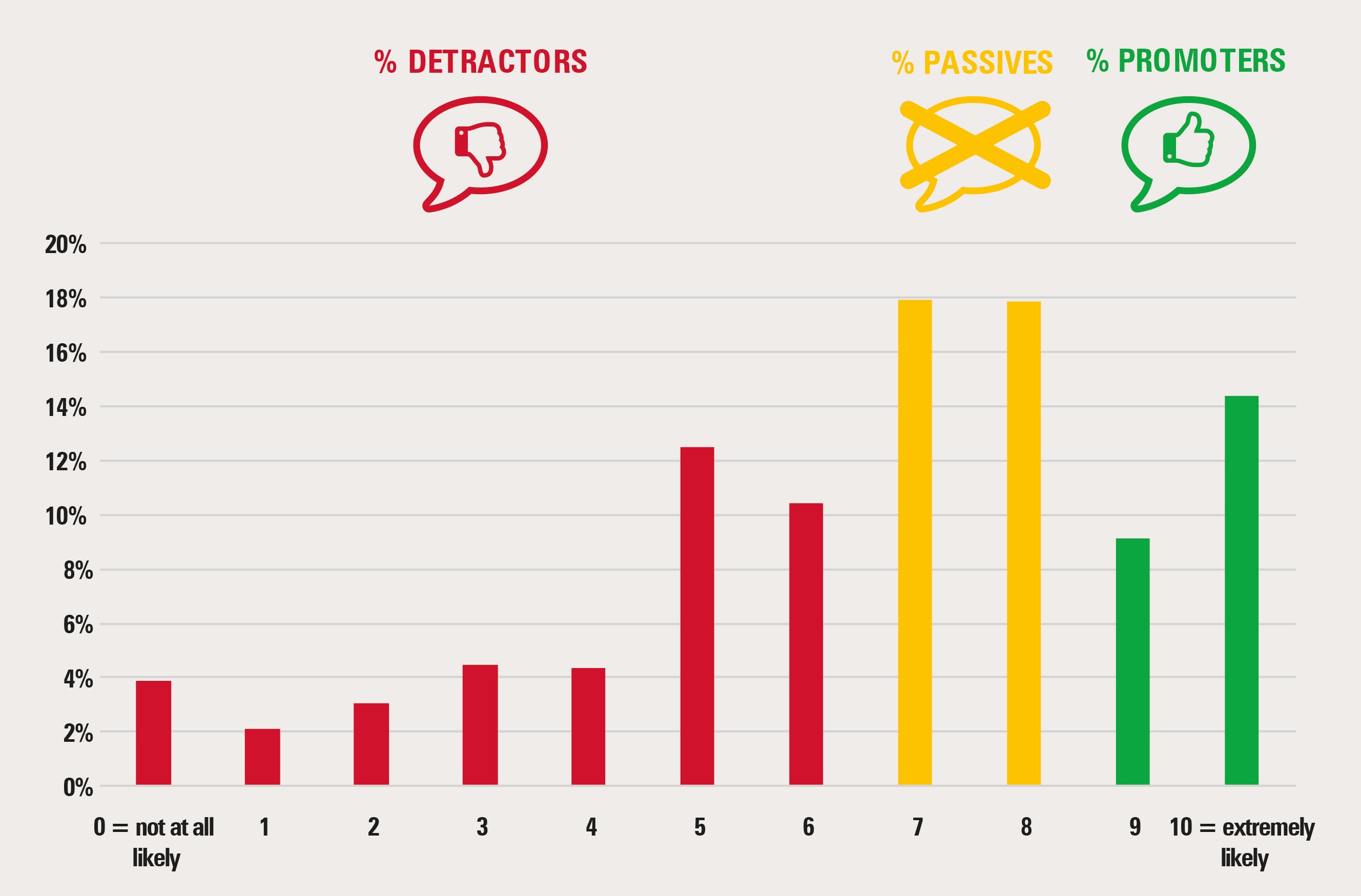 This graph is an example of how respondents are categorised based on their response as Promoters, Passives or Detractors. Net Promoter Score is then calculated as the difference between the promoters and the detractors and is expressed on a scale from -100 to 100. So an event with a plus score has relatively more promoters than detractors, whilst an event with a negative score has more detractors.
So why does this matter?
The impact of NPS has been extensively researched across many industries. With a finite number of potential attendees and sponsors in most sectors, when advocacy is low, it will get harder and harder to attract new attendees and sponsors and the existing customers will be increasingly sensitive to any price rise and over time may even withdraw their support.
It is an important "leading indicator" as to how your event might perform commercially in the future.
Explori has conducted research with events around the world that shows a positive NPS from exhibitors and sponsors means an event is more likely to experience commercial growth in three key areas:
Attendee numbers
Exhibitor numbers
Exhibitor revenue

Interestingly events with a positive exhibitor NPS are growing their sponsor and exhibitor revenue faster than their exhibitor numbers, indicating they may also be finding it easier to up-sell their existing customers to new and higher value services.
Want to know more about NPS and other aspects of event exhibitor and sponsor experience?
You can download our full report here, covering the experience of exhibitors all round the world.